Designing the perfect bathroom can be a daunting task, especially when you take in to account the essential practicalities of it all.  Bathrooms have come a long way in the past few decades, and a well-designed bathroom can add a great deal of value to your home. Whether it's a renovation or a new build, our blog post aims to take some of that stress out of your decision, by sharing our top tips for getting it right.


Roca Inspira Range
1. Priorities
What kind of space are you hoping to achieve? Are you aiming for practical family space? Or are you hoping to achieve a spa like feel. Try and visualise how you would like the room to function. Then draw up a wish list of what you ideally want from your bathroom.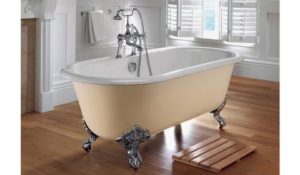 Imperial Cast Iron Bath
2. Inspiration
Take time over your decisions. Explore on-line resources. Instagram and Pinterest are great tools for ideas and inspiration. But really, there is no substitute for a visit to the showroom. You need to be able to see and touch the ceramics, showers and furniture, to get an idea of how it will work in your space. Our showroom has dozens of layout options on display, but we can tailor any options to suit your requirements, so the possibilities are endless.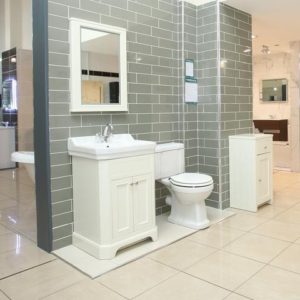 Showroom Feature
3. Ask the experts
Before you purchase anything don't forget to get advice from the professionals. You will need expert information to see if your ideas are achievable. Our showroom staff would be delighted to talk through any of your layout plans and are available to offer their own expertise to help you get your perfect bathroom.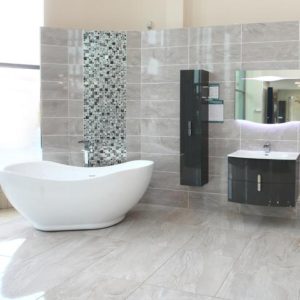 Showroom feature
4. Practicalities
Sketch out your floor plan. Make sure there is a comfortable flow within the room. Don't forget you need space to move around, allow at least 100cm in front of a bath and 70cm in front of the toilet.  If you haven't got room for a bath how about a luxurious walk in shower?  If you fancy a wet room but don't have the space how about a low level tray surrounded by a frameless enclosure or panel?  In a new build try and consider the placement of the toilet, do you want it to be the first thing you see when you enter the door? If it's a renovation be sure to bring us a sketch of the position of your existing toilet, shower, bath, basin and radiator so we can determine what will fit well in your space.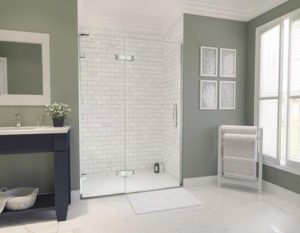 Arysto Ten shower door
5. Storage
Make sure to keep in mind the importance of ample storage in your new space. You don't want to design your new sleek bathroom only to have it looking cluttered up with toiletries and bottles etc.  A substantial cabinet or vanity unit is a smart buy, to conceal the everyday items.  And you could always add a few shelves to display prettier pieces.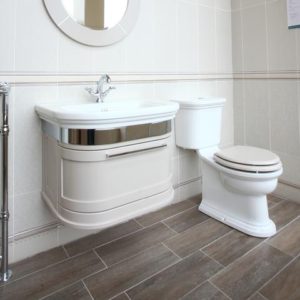 Imperial Carlyon Thurlestone vanity unit
6. Finishing touches
Finally, don't forget about the finishing touches. In your new space maximise the design element with luxurious brassware, in alternative finishes. Invest in new technology to compliment your new space. LED lighting and bluetooth features will make your bathroom a space to linger in.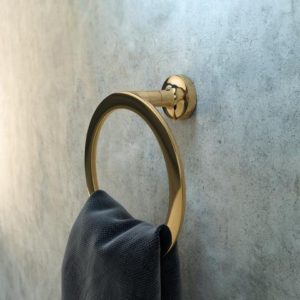 Geesa Gold towel ring