There is no escaping the fact that modern bathrooms contain a lot of potions and lotions. Even the most pared back house will still have a wealth of items. But how do we store these items in neat way, without making a space seem cluttered? Yet still have them all within reach? Here are four neat bathroom storage solutions, which will ensure you won't lose out on style, while keeping your bathroom looking sleek and easy to clean.
Mirrored cabinets
There are a lot of advantages to modern homes, en suites being one of them. Having that extra space is great, but clever design and storage solutions are the key to making a space feel as big and uncluttered as possible. Mirrored cabinets are an ideal solution in a small space, serving two purposes and at the same time having day to day items really close to hand. The Sonas Stilo Mirrored Cabinet is a winner in our book, with the added bonus of a sliding door, perfect in a smaller room.
Under Sink Storage
By far one of the most popular and best space saving solutions are under the basin storage. With a massive range or styles, materials and colours to suit every taste and budget, the biggest benefit is that it takes up absolutely no room, as it uses dead space under the sink. Wall hung units keep that clutter free look and are an easy to clean space too. Consider one that offers in drawer organisation for keeping all the little bits and pieces in order (so much handier when you are in a rush in the mornings)
Shower baskets
Nobody is at their best first thing in the morning, so ideally you need to make your shower experience as straightforward as possible, with everything you need within reach and easy to see.  We think shower baskets are the perfect answer. What use is a fantastic shower space, if there is nowhere to safely and securely store your products? We love the Smedbo range of accessories, made from solid brass and coated in water resistant chrome, these are guaranteed not to rust. There is also multiple options for mounting products to a variety of wall surfaces and materials, so that's one less headache!
Free standing cabinets
Free standing tall cabinets in a bathroom are a fantastic idea. Designed to fit into a narrow space, even awkward corners, there is a massive amount that can be stored in them. Especially good for families, and storage of clean towels or items not used every day, they come in either floor standing or wall mounted options. Both option looks good, and the finishes they are available in ensure your bathroom has an elegant line, whatever your style.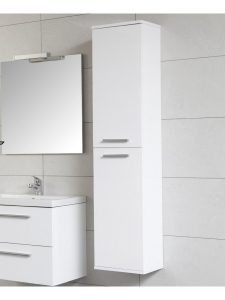 Sonas Otto