Welcome to the third in our series "PJ's Guides", quick and useful articles created to help you make informed decisions about what you need, before you even enter the showroom.
Today we are taking a look at the Atlantic Explorer Water Heater, a system that gives you hot water on demand 24/7, independent of your heating system.
How does it work?
The Water Heater works on a heat pump system, using Air-to-water technology to give you hot water. Put simply, it gathers the calories in the outside air and uses it to provide water heating.
Is this only for new builds?
No, that's part of the popularity for this system, it can easily be retrofitted to any home, in a variety of spaces, inside and out. It's also maintains a household friendly noise level.
Is it easy for anyone to operate?
It really is. It has an easy to use digital control panel, which allows for temperature adjustments, mode selection and a screen that allows you to check energy consumption statistics.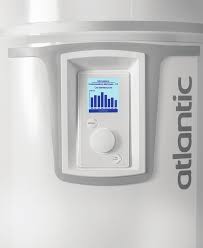 How much does it cost to run?
Less than €100 per year! You get all the hot water you could want 24/7 for under €10 a month.
How can I find out more?
Call in to the shop and just ask about it, any of our staff would be happy to tell you more. If you want to bring in your renovation/new build plans we can take a look and let you know about the technical aspects.
Don't forget, you must use a qualified person to install your heat pump.