Showers are such an important part of our bathroom spaces now, with increasingly luxurious options available to us. Once upon a time we wanted to tuck the shower away in a corner and make it blend in to the background. Now it's all about making it a statement in its own right, and tiles are the the best way to make that statement.
So, should you choose the same tiles as the rest of the room?
It's all about what works in your space, and your own taste. By no means do the tiles you use in the shower need to match what you have chosen for the rest of the room. You can choose to contrast completely, or incorporate design elements to make the space seamless.  Whatever you decide to do, we will be here to help you make the right choices, for your style and budget.
Metro Tiles
Time and time again we have come back to metro tiles. Around since the 1900's, they have been increasingly popular in the last number of years and that popularity is showing no signs of abating.
The beauty of the metro tile is the ingenious number of ways that they can be applied. Herringbone, basketweave and vertical are three popular pattern options right now, and don't forget that choosing a dark grout changes up the look, for a more industrial edge.
Feature Tile Wall
It can be hard to incorporate a bold choice in to your bathroom, but sometimes you just want to inject a part of your personality in to the room. A feature wall in the shower is a great idea, keeping it within the frame contains it, while giving it a designer edge. Get the look below by using Revival tiles from the showroom.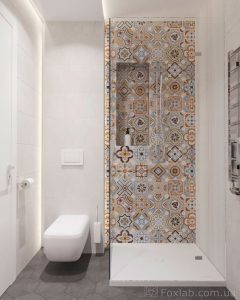 Image via houzwee.com
Large format tiles
Large format tiles are one of the most dramatic statements you can make in any space in your home. Design-wise they are one of the strongest trends in the market over the past number of years, but aside from the pleasing aesthetic they are practical in your shower space too. With fewer grout lines they are easier to maintain and keep clean, and the sheer size of the tile widens and enlarges the space.
In the showroom we have featured Flair Chianti wetroom panels with the Leeds Gris Lapado tile in 75cmx75cm format, allowing the whole space to be opened up.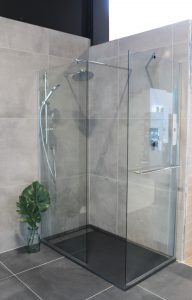 Image via PJ Matthews
Neutral tiles
Choosing a neutral tile is a timeless and elegant option, and a great way to create an airy, spacious atmosphere.  A high quality neutral tile will introduce luxury and a spa like experience to your shower and it lends itself well to built-in shower storage. And if you are looking for something a bit different with regards to your shower fittings, a neutral tile will accentuate the choices you have made. Below we have teamed the Aqualla Fuse matt black shower head with the Villanova Gris tile, for a minimalist, sophisticated look.
Image via PJ Matthews