Small bathroom solutions are big business. Whether it is a small family bathroom, an ensuite or a guest bathroom, there are more options available now than ever before. With a bit of clever planning and some great choices, your small bathroom can be both practical and stylish. So here's a look at our seven best buys, available in store to instantly maximise your space and enhance your experience.
1. Whatever shape or size you are going for, basins are generally made to a standard thickness. Not so with the Inspira collection from Roca. The range is created in Roca's ground-breaking FINECERAMIC, a high quality ceramic material that is up to 40% lighter and 30% stronger than standard basins, and gives a crisp clean edge to the unit. There are three distinct shapes available, Round, Soft and Square so you can choose a style that best suits your individual space.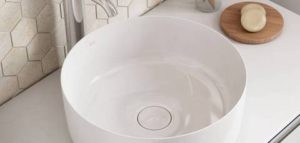 Roca Inspira Round Basin
Heated towel radiators are a clever way to make the most of your space. They add a hint of luxury by making sure your towels are kept warm and dry and within arm's reach while you shower. In PJ Matthews we offer an array of sizes to suit your needs, in both curved or straight ladder designs.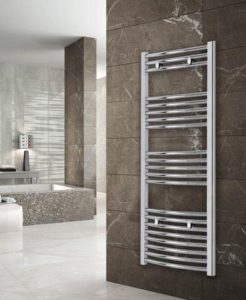 Luca Curved Radiator
2. Extend the floor space within your bathroom by choosing from our wide selection of wall mounted units. Wall mounted vanity units have been gaining popularity over the past number of years, not only saving space but making cleaning a much easier task. We offer a wide selection of finishes and colours, so you can inject your own personal style.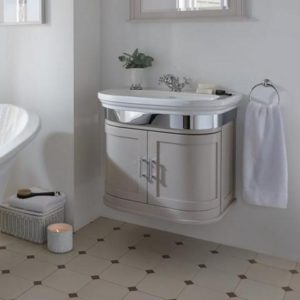 Imperial Carlyon Thurlestone Vanity Unit
3. The right choice of tile has the ability to make a small space feel light and airy. Consider using the same tile or colourway throughout the floor and walls, adding a spa like quality to your room while preventing the feeling of being boxed in. Our popular Forja porcelain tile, in a luxurious matt ceramic finish, comes in several colours and in a versatile range of sizes to suit every space.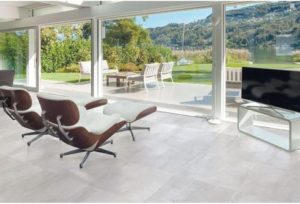 Forja tiles
4. Softening hard edges is a really effective way of creating the illusion of space in a tight spot, so if you are investing in a shower consider a curved corner unit. Sliding doors are the ultimate space saving investment, you do not need to factor in the area in front of them as you would a hinged or pivot door.
Merlyn Series 8 Quadrant door
Consider your lighting carefully. Install a few smaller lights instead of one big light in the ceiling. This adds more depth to the room and makes it seem more inviting. A backlit mirror is a great idea for a small bathroom, combining two functions in one. Choosing a large mirror reflects light back in to the room, making the space seem larger.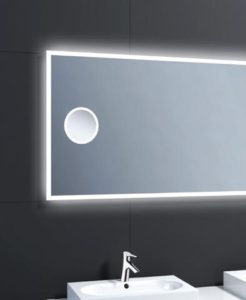 Linea Backlit Mirror
5. Clear the clutter! Keep all your bits and pieces tidied away, to ensure that surfaces are bright, clean and airy. And a great way to save space is with a column unit, which extends upwards to make the most of that vertical space.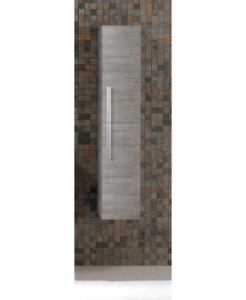 Avila Column Unit
So there you have it, seven ways to make the most of your small bathroom, but we have countless more ideas and options in store, so call in with your floor plans and let us give you a hand deciding what will work best for you.