There is a lot to consider when you are picking tiles. Not only do you need to choose between styles, colours and format, you also have to consider the tile anti slip rating, in relation to where they are going in your house. Here is our quick guide to what you need to think about when it comes to your tile shopping, and what is suitable for each space.
Most floor tiles that you go and look at will have an anti slip rating. There are two main tests; The R-Rating is a shod-foot test which uses oil as a contaminant. The ABC-Rating is a wet barefoot test which uses a soap solution as a contaminant. The R-Rating goes up to R13. The ABC-rating goes up to C. For domestic use R11 would be the highest rating needed.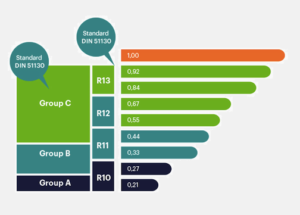 So what do you need to consider for the various areas of a domestic setting?
Tiles that fall in to Group A/R9-R10 would be perfectly suitable for hall, living room or kitchen. Any space that won't be constantly wet.
Group B/Group C/R11 are what you need to focus on for bathrooms and wetrooms, places where the floor is nearly always wet.
Anything above R11 is for industrial and commercial use.
As always, just call in to us and we will ensure you get the best advice and right tiles for the right areas of your home.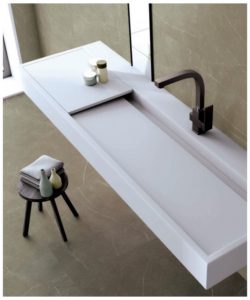 Andrha Tile (Anti Slip Rating C3), available in a range of colours.