How it works
Heat recovery systems are whole-house ventilation systems which supply fresh air to dry rooms and extract stale air from wet rooms. Both air flows are ducted and driven by two fans, one on the supply side and one on the extract side. It uses a heat exchanger to transfer heat from the warm exhaust air to the fresh air.

Why do we need HRV?
Nowadays, buildings are a lot more insulated and air tight, so it is vital that a suitable ventilation system is in place. With the current building regulations, installing a heat recovery unit is becoming a necessity rather than a choice. It is important that you have adequate air supply to all rooms and extraction from bathrooms and kitchens. Insufficient ventilation can lead to mould growth, condensation damage and unhealthy living conditions.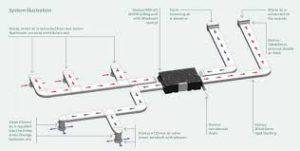 Benefits of Heat Recovery
You have a constant supply of clean, fresh air for your home

Relief of allergy problems for the whole family. 

Potential to save 15%-20% on your heating bills.

Eliminate mould and mildew.

Benefit from heat recovery.

Reduce the demand on existing heating system.

No draft sensation – "no hole in the wall"
Call in to us today, and along with designing your underfloor heating and evaluating your heatpump requirements, we will design your heat recovery system. All we need is a set of your house plans.