Shopping in current conditions might not always feel like the easiest, most relaxing thing to do but our quick 5 step guide shows you just how to get the most from your shopping experience here with us right now.
Get all the inspiration that you need
Whether you are renovating or taking on a new build you might want to check out some inspiration first and where better than with our social media channels. We have brand new content several times a week on Facebook and Instagram as well as all our news, customer favourites and details on sales and special offers. This month we launched our Pinterest channel – HERE, which has masses of pin-able content, including tiling options and the finer details of the products in the showroom. With more content being added weekly it's an ideal first stop for huge inspiration.
Getting a closer look at what is in store
Okay so you know now what kind of look you are going for, be it traditional/contemporary, dark/light etc you will want to get a closer look at what we have in store. We have the largest showroom in the Mid West, with over 60 displays. How do you break down your favourites before hitting the store? By clicking here: SHOWROOM DISPLAYS. We have catalogued all the bays here for you, with photos and a list of items so you can take a note of what you want to have a look at first!
Make the call
For the safety of our customers and staff we are happy to give you a dedicated appointment in the showroom, all you need to do is give us a ring on 061-413722 and we will book you in. We also welcome walk-in customers, but to ensure your safety you may be asked to wait in your car for a few minutes if our showroom is too busy.
Safety first
The health and safety of all those who visit, and work, in PJ Matthews is our primary concern and priority. In line with government protocols we have provided hand sanitiser, perspex screens at the counters and we ask that everyone maintain a 2m distance.  To make your time in store as smooth as possible be sure and have a note of measurements/photos/floorplans with you, so we can work with you as efficiently as possible.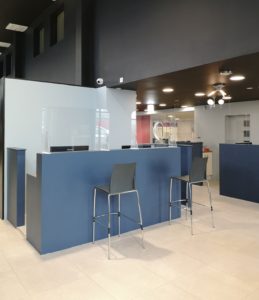 5. Last but not least
At PJ Matthews our motto is "Quality, Value and Customer Service". With this in mind we continue to offer complimentary design support, as well as expert advice on plumbing, fitting and fixtures during this difficult time. And don't forget you can always email us on sales@pjmatthews.ie to get clarifications, ask questions or to place any orders.
All that's left for you to do is enjoy your shopping experience with us!