Picking tiles can feel like such a daunting task, it's a big commitment compared to the likes of wall paint, so you want to make sure you have it right before you get the tiler booked in. But instead of committing on just one tile in your room, how about mixing styles? It's a concept that has been around for a long time now, but we are starting to look at it in fresh and new ways, with a nod to the past in certain styles. Mixing tiles can really bring balance to a space and help inject your own personality. The rest of your home probably has a variety of design elements to it, so why not your bathroom?
Have a read of our blog to see how we are mixing up tiles in the showroom, for maximum effect, whatever the space.
Small spaces
Having a small room is no barrier to mixing up your tiles. We are always conscious of putting too much in a small space, but putting in contrasting tiles, whether it be colour, style or texture, can create a spatial illusion.  Shown here is the Devon Fern wall tile with the Santillana Perla tile on the floor.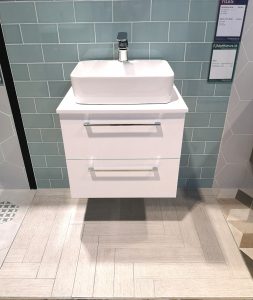 Large Rooms
Larger rooms can sometimes feel a little harder to get right. You want to strike a balance between making the most of the space and yet also not making it feel bland. Create a dramatic, yet elegant look by using large format tiles, in a contrasting colour.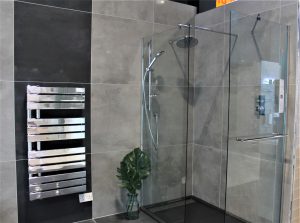 Vintage/Retro
It's fair to say metro tiles are consistently popular and there is no sign of that popularity abating. Mixing it up with a dark grout makes them stand out and makes the layout a feature. We have paired them here with a gorgeous patterned tile, for a clean monochrome look that creates maximum effect.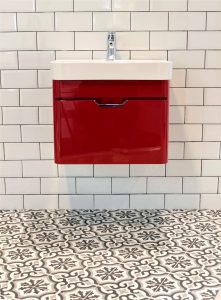 Fresh new look
The rise in popularity of the wood effect tile has given us new scope when it comes to creating sleek new bathroom interiors. Beautiful to look at, yet entirely practical, the wood effect tile is the ideal companion to a neutral matt tile. Here the Dallas Ceniza is paired with the Extreme Blanco, which picks up the brighter elements in the wood tile.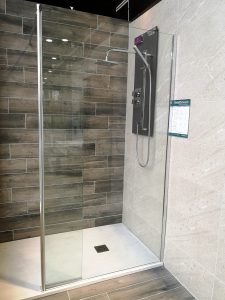 Textured walls
A textured tile on the wall catches the eye, creating a sense of movement and dimension. But as beautiful as they are, they can be overwhelming in a space, so are ideal to pair with a smooth tile, as shown here.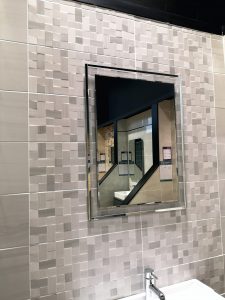 Mixing Neutrals
Neutrals are timeless, never going out of fashion, but how about using a hexagonal neutral tile for something different? Geometrics are the freshest look in tiles right now. We are big fans of these Odesa Hex tiles, showcased here with the plain hex tile mixing it to up create a new modern classic