Sometimes, when you are redecorating, renovating or building, the bathroom is a space that can cause a bit of trepidation. How do you make a statement in what is essentially the most practical space in the house? How do you ensure that it reflects your own taste and personality?
Bathroom design has come a long way, and designers now realise that we want both style and functionality; that bathrooms can be spaces that are luxurious, and that can have a real wow factor.
So here's our guide to achieving the luxury look, with everything that is available to you in PJ Matthews
1. Freestanding Baths
A freestanding bath is the ultimate in luxury looks. It acts as a focal point in the space, and gives your bathroom a spa like feel. When it comes to bathrooms, designs are usually space efficient and geared towards functionality so a freestanding bath is a true statement. Add to that the fact that the choice of finishes and colours is now unprecedented, you have limitless ways to reflect your personality.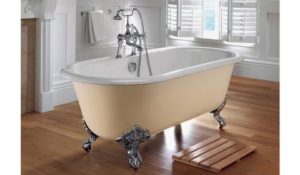 Imperial Bathrooms do an amazing range of free standing cast iron baths, in various shapes and sizes. The Bentley claw footed bath shown above is ready to paint, with a range of finishes available for the feet.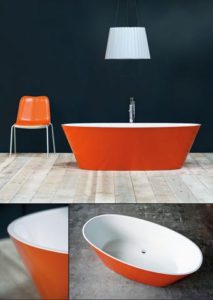 Another favourite is the Adamsez Calabar composite bath, shown below in a show stopping orange but available in a huge range of colours, including Pantone Colours of the Year and Farrow and Ball shades.
2. Opulent Showers
If you don't have the space for a freestanding bath how about going for an oversized shower? You can make efficient use of space, while still including wider doors, smooth lines, and curved or straight enclosures.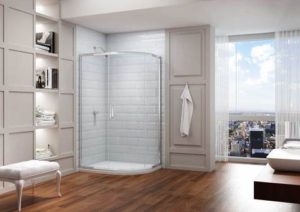 The Arysto range by Merlyn offer a large range of options available to view in our the showroom. Also coming to the store is the Arysto in smoked black glass, not only luxurious but bang on trend. Find the type of shower that best suits your space and adapt it to suit your preferences.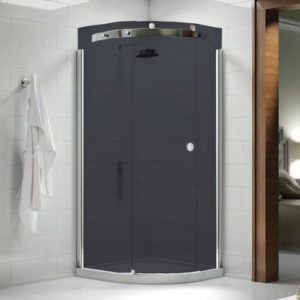 3. Think big with tiles.
Right now larger format tiles are the big thing across all interiors, both on floors and walls, working well no matter what size space you are designing. Right now in the showroom you will find the Blush and Celian ranges, in a variety of sizes, up to 120cm x 60cm. Both are available in a range of colour accents and textures. All in store to have a look at.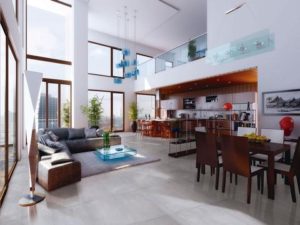 4. Bathroom Furniture
Clearing away the clutter is a sure way of turning a messy bathroom in to a more relaxing spa environment. It is essential to invest in adequate storage when designing your new bathroom. There are extensive options available whatever the size and shape of the bathroom.
The Inpira range from Roca, seen below, offers ample possibilities, combining different basins and vanity units, for whatever size room you have.
Imperial bathrooms have also staked a large claim in the luxury market, with wooden wall hung units, hand painted finishes and soft-close doors, available to order in store to your specifications.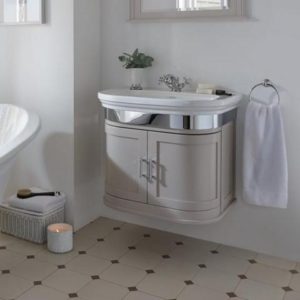 5. Finishing Touches
The devil is in the detail, so never underestimate the importance of bathroom fixtures. And the real high-end luxury look can be achieved with a few considered purchases.
Consider fitting a rainwater shower head, like the below from Aqualla. Keep in mind that brushed chrome and polished silver are not the only options anymore for finishes, ask about the new Ramore bronze finish brassware in store.
And finally don't forget the lighting! A lot of natural light in a bathroom is a luxury, but if that isn't an option available to you then subtle accent lighting can also give you a similar effect. Invest in spotlights or wall lights to create even illumination and sufficient light without being overly harsh.