This week the spotlight is on the Samsung Mono Heat Pump, created in collaboration with Joule.  Both these industry experts have joined together to develop the next generation of air to water heat pump system – designed for hassle free installation and heating comfort throughout the home.
The primary focus for both companies is to deliver nearly Zero Energy Buildings and after years of research in to what an Air Source Heat Pump should offer, it has culminated in this system.  It's easy to install, simple to configure and most importantly is a breeze to use.
So how does it work?
The system applies heat pump technology, to consume the heat energy from the air (a free and renewable energy source) to offer low cost heating and hot water. The process consists of an evaporator, a compressor and a condenser. The unit can be integrated with radiators, underfloor heating, hot water cylinders and solar thermal systems. It absorbs heat from the outside air and the heat pump compressor then increases the temperature of that heat and releases it inside the home as air, hot water filled radiators, underfloor heating or hot water heating.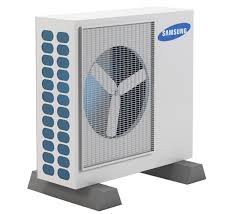 Does my home have to be well insulated for a Heat Pump?
Air heat pumps work best when heat is produced at low temperature and therefore it is vital that your home is well insulated and draught free before installing an air source heating system.
Which Samsung Heat Pump is right for me?
That depends on a number of factors, including the size of your home, the type and number of heating elements involved and the hot water function. Talk to us here at PJ Matthews and we will ensure that you make the right decision.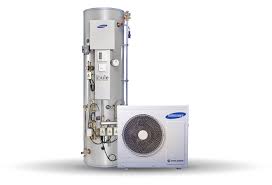 Is it easy to install?
Very. It's a lightweight, compact outdoor unit, which includes all hydronic parts, therefore saving the time, space and expense of installing refrigerant pipes. There is no reason that your regular plumber cannot install it.
What warranty come with a Samsung Heat Pump?
7 years parts and labour.
What else should I know?
This new generation of heat pumps are smartphone compatible and benefit from remote monitoring for better service, offering even more efficiency when it comes to your spending.