Cevisama 2019 takes place this week in Valencia, the key International trade show for ceramics and bathrooms. With 90,000 professionals in attendance it is an unmissable event for those who wish to see the latest tile trends for this year and beyond. We are going to take a look at five key trends in tiles for 2019, that you can pick up right now in the showroom, whatever your budget. 
1. Earth Tone Tiles 
Across all interior design platforms there has been a return to earth tones. Earth tones are defined as a scheme that draws inspiration from a colour palette of tans, warm greys, browns and greens. These muted colours are suitable for those seeking a more natural look in the home, and are ideal for small spaces, to give a sense of warmth and cosiness. Ideal options in earth tones would be wood effect tiles, versatile and perfect to use with underfloor heating.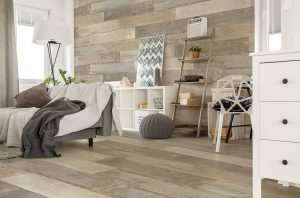 Sail natural
2. Large Format Marble Effect Tiles
Thanks to increasingly advanced production techniques over the past decade, it has become hard to define what's an effect and what's authentic, hence the rise in marble effect tiles. Take advantage of the realistic appearance and aim for a large format tile, that really gives you the high end architectural look for your walls or floors. The Alsacia tile is a stone effect matte porcelain tile. The pattern is based on an Italian bianco carrera marble. We offer it in a wide variety of sizes for your home.  
3. Metro tiles – reimagined  
Metro tiles have been unendingly popular for the past few years and they are going nowhere. They are now reimagined with chic new ways to display them, and serene colour palettes ensuring they remain on the top trends list.  
 Popular ways to apply them include chevron, herringbone and vertical patterns. The addition of contrasting tiles dotted in amongst the tiles is also a key new trend we are seeing. One of our most popular metro tiles is the Bulevar high gloss, straight edged tile, which we stock in a range of contemporary colours.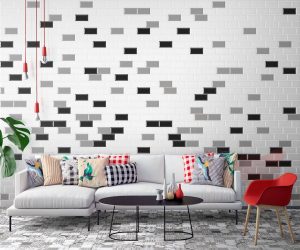 4. Rugged tiles  
Our love of pattern throughout tiles has lead to 'Rugging' an ingenious and cost effective way to make the most of your floor. Essentially it means a patterned tile laid out in an interesting fashion, defining an area as a rug would, while the rest of the floor is laid with more neutral tiles.  It's a unique and clever way of zoning off areas within a larger open plan living space, while creating a real wow factor.  
We have a wide range of tiles in store, in a beautiful palette, that will allow you to create this unique look in your home.  
5. Textured Tiles 
Colour is popular in tiles but its not for everyone, so textured tiles are the perfect way to express your style while maintaining a neutral palette. The texture adds depth to the tile, which giving it a tactile element. With endless textures available, you can still have your showstopping space and a contemporary feel. The addition of a running vein of textured tile, in amongst the neutral and smooth, is a top trend we are seeing more of.